Newsletters - May 2002
Some cool news--
May 4th was Free Comic Book Day, in celebration of the Spiderman movie coming out. The Comic Book Shoppe hosted a local/indie creators' panel and I got to be on it. It was nerve-wracking but fun all the same. I managed to print Abraxia #2 in time to flog at the store..and sold almost 20 copies. I can't believe it took so long to get #2 done.. but it felt great to finally have it in my hands.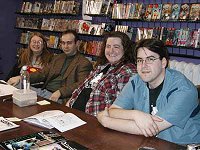 L-R

Janet Hetherington "Eternal Romance", Ron Huse "Tanithia's Dream", Suzanne Marsden "Abraxia's Dream" & "Ivy & Dummy", Troy Little "Chiaroscuro".

Comic Book Shoppe,
Ottawa, ON
May 4th 2002.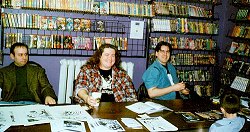 Suzanne Marsden
601-360 Bell St. S.
Ottawa, ON
K1S 5E8
Canada



abraxias_dream@hotmail.com

« Previous | Next »