Ivy & Dummy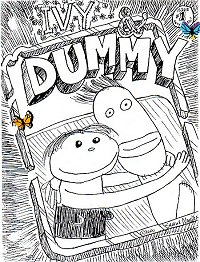 Ivy is a simple girl with simple needs: Burris is a Dummy. They don't talk anymore and Ivy wants to know why. 'A romance that has to be seen to be believed!' You won't want to miss a single issue of 'Ivy & Dummy''s wacky adventures. A mini comic by Suzanne A. Marsden.

Look for future appearances of your favourite crazy grrl and her adorable Dummy somewhere in television-land. Online issues may be forthcoming as well!"

(BROKEN PENCIL REVIEW)


"Ivy & Dummy" is now a fabulous Flash short crafted by the fine people at Decode Entertainment
and assisted by moi!

"Ivy & Dummy" - Created/ Written by Suzanne Marsden
Directed/ Animated by Geoff Marshall, Music by The Dave Howard Singers


NEW » See the animated short.





Ivy And Dummy from Geoff Marshall on Vimeo.