STORIES & POEMS
::::::::::::::::::::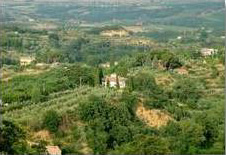 Stories and Poems
Here is a little poem I have written
for people who would like to visit Il Bel Paese.

ITALY

Here is where I like to be
Sunny days beautiful beaches deep blue sea
It is of course Italy

The kindest people you will meet
Provide you with everything you need

Visit many towns and castles where Roman soldiers drunk their beer
Well preserved places you will find far and near

The gentle rural countryside of Tuscany
The vine yards and olive trees
Lakes and mountains to explore
Who could ask for anymore

Lots of fun night and day
Just the perfect Holiday

When it is time to travel home
You make a promise to return soon





© Gisela Cooper October 2006



Even in the war years I had known many Italians and had realised their kind nature. They had been telling me about their 'Bel Paese.'

For many years I have been spending happy Holidays in Italy, and was surprised to find so many treasured places. From Rimini it is so easy to take a train up and down along the coast and stop at different towns and villages to have a look around.

There are some towns like Ravenna, Florence and Rome who made an enormous impression on me. I am only sad that I could not visit many more towns, as I am not able to travel at all now. Ravenna I remember for the Mosaic Art, with the wonderful chapel, and of course all the statues of former rulers and artists. First and foremost is Florence with its Art Treasures: Buildings of white and pink marble, ornate with master paintings inside and out. The many statues created by famous sculptors. There I met 'David' by Michaelangelo. One replica looks from a platform over the city below, and one stands in the Plazza della signorina. The original is standing in 'la Galleria degli Uffizi.' 'La ponte vecchio' where Dante met Beatricia. Dante's house is still standing, and his grave can be found too.

###



Each town has an abundance of Art. But even the tourists places have a charm unlike I have seen in any other country; there too history is attached, old mingles with the new.

I visited the castle 'Gradara', not so far away from Cattolica, where I stayed several times, and one Spring time the Lord Mayor organised an enjoyable festival for all tourists in the town square. White-and red Wine and cakes where served to us. First Italian Folk-Music was played by a local Band with dance music after.

Another time we were taken deep inside the mountains near Remo 'The Flower Country.' The wonderful flowers one can buy on the market stalls! In the 'Marketa operta.' On top of one of the mountains is a Restaurant. There we were invited for a junior dancing competition/show, food wine and dance. Going up by coach we had faced a hair-bend, very scary, as it was not a wide road and a cliff-face went up on one side, and falling steep down into the valley below. On the way back to our Hotel, our coach had two cars, one in front and one at the back, with their lights full on, to guide us around the hair-bend inch by inch. The night was pitch-black. The few glasses of wine we had drunk gave us courage.

###



I also visited San Marino at one time. Had a bit of trouble ordering coffee. I did not know that I had to ask for 'un cafe lungo con latte,' the way I like it.

Travelling from Rimini, I was able to stay eight hours in Rome. Coming out of the train the heat settled on my like a blanket. I walked from the Station to the Colosseum passing the famous fountain in 'La Plazza Navona,' representing the four largest rivers in the world: the Ganges, the Nile, the Danube and the Rio della Plata. In the Colosseum, I walked up the stairs to look down on the Arena, where horrific scenes had been played out so many centuries before.

Walking back, I passed the Forum to find a tram to take me to St Peter's Square, but I missed it, going too far. I had taken the wrong tram. I did not even have a ticket. I did not know that one has to buy one in a Tobacconist. From St Peter's Square, the Terminal, the tram was waiting. I told the conductor that I had no ticket. He said:'It does not matter, you are only a foreigner.' I thought it to be very funny.

###



When in Cattolica I walked through the countryside to the villages 'Santa Lucia' and 'San Giovanni.' Both villages are not touched by tourists and life there is likeI had imagined it to be before the tourist boom after the war. I also went to Riccione to see Mussolini's summer house. Of course that is in ruins, but some part is being used for storage of ceramics. It must have been beautiful, because it is surrounded by a park and from the now totally broken-down balcony it must have given a marvellous sea-view.

I also visited Farno and Pesaro, where Rossini had lived. At the time of my visit I was told by a musician I met that Pavarotti was living in Pesaro too. I spend very little time on the beaches, as I rather wished to look into Museums admiring Italy's historic treasures. I am sorry that I did not see all the lovely cities, but I had bought a wonderful book in Rimini, full of photographs depicting paintings, statues and covering very many important cities in Italy from North to South, which keeps my memory alive. I just love Italy! Why do you think?

I had a wonderful Italian grandmother, my mom's mother. I would have liked to ask her so many things, but she died when I was very young. I would have liked to know where she met my grandfather. He was an officer in the Kaiser's Army before WWI. They were married in East Prussia. Grandmother's maiden name was Zanina, Marta Zanina. I often wonder where she and her parents lived in Italy.



© 2006 Gisela Cooper