FRIENDS & INTERESTS
Hildegard von Waldenburg - Ja ja mein kind
World War 2 True Story of a German girl
I have found a book written by
Hildegard von Waldenburg (Graf)
at Amazon -
Ja ja mein kind. That's how it is, my child. Autobiography of a German girl who lived through the war in Berlin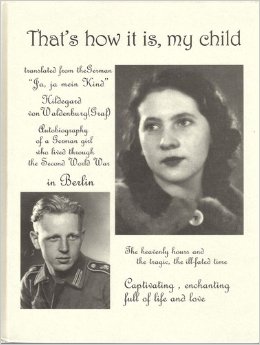 She writes beautifully, and includes much about her family. There are many photographs too. The book is hard cover and absolutely huge, about 450 pages. It makes interesting reading about things I never knew. You can
read more about Hildegard's Ja ja mein kind on her web site
(saved by the Internet Archive Wayback Machine).
Hildegard also made headlines when she became known as the "
shotgun toting granny
" from New York, the German immigrant who saved the trees. Her story was in the New York Times and the Associated Press. She was interviewed on many radio talk shows and was invited to appear on the David Letterman Show. She became a national heroine.