WELCOME TO SOUND STORIES!
With Sound Stories, you can read a story and roll over or click pictures and animations to hear surprise sounds. Turn up your speakers and try it on the kitten above. Did you hear a meow? If you can't hear anything, the information below might help. If it doesn't, don't worry. You can still see the animations and read the story. Click the Button below to begin the Story A Little Ghost Named Spook, but watch out for Alex right below.
He's a wolf that likes to play, eat, and howl at the moon.


A Little Ghost Named SPOOK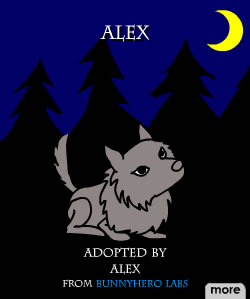 adopt your own virtual pet!


Would you like to send me a message
(and play with the kitten)?



Search
---
INFO ABOUT THE SOUND ROLLOVERS:

You'll need Javascript enabled for the sound rollovers to work. You'll also need a sound card, speakers and the audio plug-in that comes with your browser.

Here are some free audio plug-ins that might come in handy:

Download Windows Media Player

Download RealPlayer
---
CREDITS


The very delightful animations of the princess and ghost were found at:
Kitty Roach PageWorks.


The fairy background image comes from

The image was created by an Italian artist named Francesca Benvenuti.


Most other halloween graphics and animations were found online: