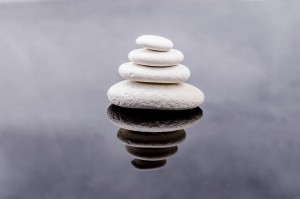 The following Zen/Taoist stories from: https://www.rider.edu/~suler/zenstory/zenframe.html
DESTINY

During a momentous battle, a Japanese general decided to attack even though his army was greatly outnumbered. He was confident they would win, but his men were filled with doubt. On the way to the battle, they stopped at a religious shrine. After praying with the men, the general took out a coin and said, "I shall now toss this coin. If it is heads, we shall win. If tails, we shall lose. Destiny will now reveal itself."

He threw the coin into the air and all watched intently as it landed. It was heads. The soldiers were so overjoyed and filled with confidence that they vigorously attacked the enemy and were victorious. After the battle, a lieutenant remarked to the general, "No one can change destiny."

"Quite right," the general replied as he showed the lieutenant the coin, which had heads on both sides.

OBSESSION

Two traveling monks reached a river where they met a young woman. Wary of the current, she asked if they could carry her across. One of the monks hesitated, but the other quickly picked her up onto his shoulders, transported her across the water, and put her down on the other bank. She thanked him and departed.

As the monks continued on their way, the one was brooding and preoccupied. Unable to hold his silence, he spoke out. "Brother, our spiritual training teaches us to avoid any contact with women, but you picked that one up on your shoulders and carried her!"

"Brother," the second monk replied, "I set her down on the other side, while you are still carrying her."

MASTERPIECE

A master calligrapher was writing some characters onto a piece of paper. One of his especially perceptive students was watching him. When the calligrapher was finished, he asked for the student's opinion – who immediately told him that it wasn't any good. The master tried again, but the student criticized the work again. Over and over, the calligrapher carefully redrew the same characters, and each time the student rejected it. Finally, when the student had turned his attention away to something else and wasn't watching, the master seized the opportunity to quickly dash off the characters. "There! How's that?," he asked the student. The student turned to look. "THAT…. is a masterpiece!" he exclaimed.