(This information is for Windows XP users still using Outlook Express 6. Please note that your email provider most probably has all your messages stored on POP, which you'll see when you upgrade. )
It could happen suddenly, the reminder to compact your messages appearing just as you've meant to click somewhere else. So you curse your bad luck when you click it unintentionally, but you don't dare interrupt it while it compacts, because they tell you not to, so there won't be any loss of data. But your computer decides to stall at some point or crash and when you finally get back to Outlook Express, you see that most or all of your inbox messages have just disappeared. NOOOOOOOOOO !
DON'T PANIC..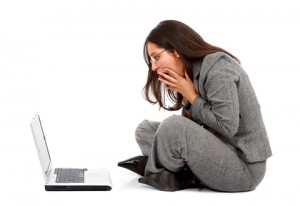 If you carefully follow these instructions, you may be able to recover them.
First CLOSE Outlook Express.
Hopefully you haven't emptied your recycle bin yet. DON'T EMPTY IT.
Click to open your Recycle Bin and do check it. Do you see any files that end in .bak, like drafts.bak, sent.bak, and especially inbox.bak. If you do, it's recoverable. But DON'T right-click and choose restore YET. (If you don't see the files there, they may be in another folder, which you'll get to later. At any case, they'll have the .bak extension.)
If you're not already viewing details, choose VIEW from the top menu, and click on DETAILS. This is so you can see the original file location.
The original file location could look something like this:

C:\Documents and Settings\Default\Local Settings\Application Data\Identities\some string\inbox.bak

(Default could be some other name, some string is the string that you were given, which is different for different users.)

You're going to have to find that original folder, but you might have to reveal hidden files and folders to do so. Local Settings are usually hidden.

Click START, Choose CONTROL PANEL, and Click FOLDER OPTIONS (for Windows 7, you'll have to click on APPEARANCE AND PERSONALIZATION link first before you can click on FOLDER OPTIONS.) Then click VIEW and look in the ADVANCED SETTINGS Window for SHOW HIDDEN FILES AND FOLDERS. Click that radio button if it isn't already chosen, then click the OK button.

Now you're ready. Find that folder, and look for an inbox.dbx. That is your current INBOX.
Right-click inbox.dbx and rename it inbox2.dbx, just in case
Now you can go back to your Recycle Bin, right click inbox.bak, and choose RESTORE.
That file inbox.bak should now be in the folder you just found.
Right click inbox.bak and rename it inbox.dbx
Now open Outlook Express and your inbox messages should be restored.
OR if that doesn't work ..
From the Outlook Express Top Menu, click File > Import > Messages > Choose the email program you use
If it was Outlook Express 6, then choose >Import Mail from an OE6 Store Directory
> Click OK, and browse for that folder you just found
> Click and choose inbox.dbx or whichever file you want to restore
and voila, those messages should be restored.
Hope this helps.